XD ZOMG first post! Cause I have no life!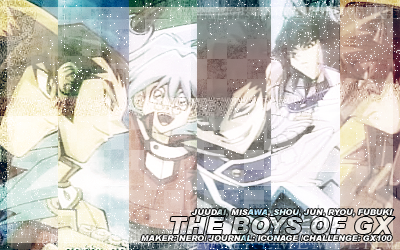 Subject: The boys (Men, whatever *shot*) of Yuugiou GX - - -
Total: 25/100
Last Updated: March 07, 2006.
Added:Forgotten, SOS, ZOMGWTF, Revolt, Genius, Red, Yellow, Blue, Bad Boy, Poison, Hot Like Fire, Light, Darkness, Internet, Summer, Exotic, Fearless, Rush, Anxiety, Charm, Limit, Secret, Solitude, and 2 ACs.
Resources: located @
iconage____.
Notes: There are some shots of yaoi, and some are implied too. O.o And now I have the urge to go make Junko/Manjyome icons for
gx100 too.



fake cut. right here.</center>